This is the first installment of our ongoing Get Hired & Give Back series. Candidates hired through HireArt receive a gift card to Kiva.org and get to donate to a cause of their choice. This series gives candidates a chance to talk about their experience with HireArt and the donations they made through Kiva.org.
There's no better part of our jobs here at HireArt than helping somebody land a job they care about at a company they want to work for. We consider ourselves lucky to work in a place where, every day, we get to help people identify career opportunities that give them the ability to accomplish amazing things. This week, we talked to Christian Robinson about his experience with HireArt, the role he landed at Oculus Rift, his Kiva.org donation, and a whole host of other things.
What aspect of the HireArt process was most appealing compared to other platforms or job boards?
The process was very simple and had a great interface which made applying very easy. HireArt gives you the resources to apply quickly, and by using video questions, it kind of gives you that in-person feel that you get when you meet the hiring manager face-to-face, shake their hand, and hand them a resume. You're given an opportunity to make a more thorough impression on the employer and that means a lot to me.
Additionally, I received updates along the way, and HireArt found me jobs that were similar to what I had applied for already, which was amazing!
Tell us a bit about your new job: What's the role? What aspect of the role appealed the most to you during your application?
The new job I found using HireArt is for a T3 Escalations/Support Specialist at Oculus Rift. This is a familiar role that appealed to me because VR is something I have been interested in for many years. I hope to someday create a free, easy-to-use education platform through VR and other technology to help lower education costs and provide education resources throughout the world. HireArt helped me get my foot in the door to a career path that will help me with my goals.
What prompted you to donate to this person or organization? What about their work and/or needs inspired you?
I decided to donate to a Kiva user who had a solid plan. Sunisa wanted to create an organic chicken farm in the area. Work is not guaranteed in the Thailand location she is from, and I saw this as a good opportunity to help out.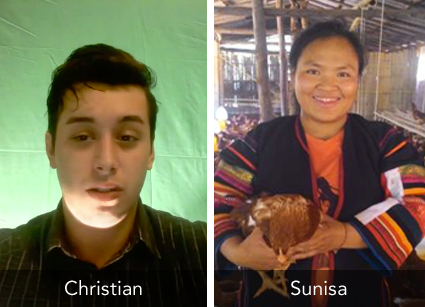 One of the main reasons I made this decision is because the funding needed is for a product that can be constantly provided since chickens keep laying eggs, and it will take minimal costs to upkeep this type of operation. Not only does it provide food, which is a basic necessity, but it also provides a stable income for the family, and if it does well, they may be able to employ people in the area who also have a hard time finding stable work.
Did you get hired through HireArt? Let us know and we'll get you set up to give back via Kiva.org.